Shipments and returns of orders My Louloute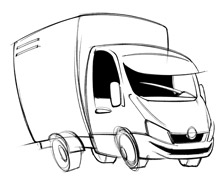 Our kits are delivered all over the world thanks to the Colissimo home service and withdrawal point France, Outre-Mer, Europe, and International by UPS and Colissimo.
Careful delivery
All our packages are prepared with care and love. Each product is well positioned in its shipping package and therefore arrives to destination in ideal conditions. Particular attention is paid to fragile objects.
Shipment within 48h- 72h
They are shipped via UPS and Colissimo with a tracking number and delivered with/or without signature.
Packages can also be shipped via UPS Extra (internationally) and delivered for signature. We will need to be contacted before choosing this mode of delivery because it leads to additional costs. Whatever delivery mode you choose, we will keep you informed at every step of your order until you receive your parcel! And you will receive a link to follow your parcel online.
Shipping costs include preparation and packaging fees as well as shipping costs. Preparation fees are fixed, while transportation costs vary according to the total weight of the package. We recommend that you consolidate all your items in one order.
We cannot consolidate two orders placed separately and shipping fees apply to each of them.
For optimal delivery, it is important to complete all the fields provided for this purpose. In the event of an error of delivery address, incomplete address, non-informed or incorrect phone, accessibility at the place of delivery, or any other lack of information about the place of delivery, you will not be able to be delivered:( and this will increase additional costs for a new delivery:(
Back Colissimo & UPS
Didn't you have time to get your parcel back in time? We offer you a new shipment. The return fee is your exclusive responsibility. The tariff corresponds to the processing of the file and shipping costs.