Your menstrual calendar, ideal for planning everything!
The Ma Louloute menstrual calendar is a new and exclusive product... with registered model and concept
Keeping a menstrual calendar is very practical!

It allows you to more easily identify the appearance of premenstrual symptoms, so you can anticipate the date of your next period and understand them more.
Your Ma Louloute First Period Kit contains a fun and educational menstrual calendar
This unique calendar was created exclusively for LOULOUTES ;))… It allows you to calculate and understand your period and the duration of your cycle.
It is made of two uneven circular wheels connected in their centre. On one side, you can indicate the first day of your last period to discover the expected date of your next period.
The other side will help you understand what is happening in your body during this cycle. You will be able to identify the different dates throughout your cycle, when any premenstrual symptoms or unusual changes to your body should occur... Too cool!
And you will be able to enjoy an interactive app... Soon!!!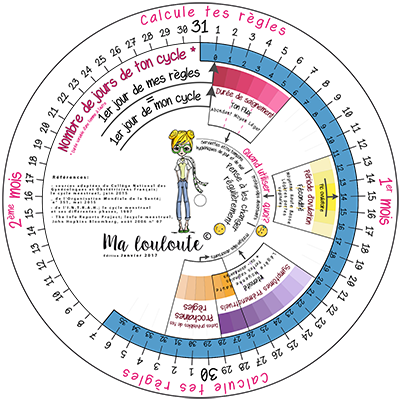 It will be easy to know the date and duration of your period and cycle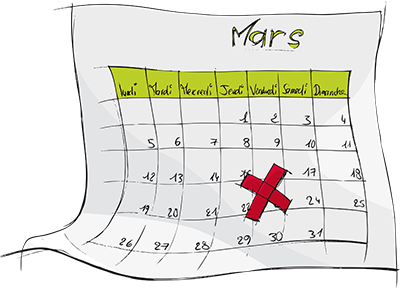 In just a few months, you'll be able to predict fairly accurately the date and the duration of your period. Everything will become easier!
You'll be able to more easily manage your use of time and know at any moment which protection to use, so you can order the Kit that is most appropriate for you, to put in your bag and not be taken by surprise…
Bear in mind, however, that for 1 or 2 years your period can be quite irregular. The calendar will allow you to accurately keep track of how their regularity progresses.