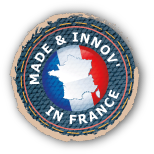 Its scents speak to us, like a wise, calm and serene guide, of the incredible beauty that nature offers us. Considered as the symbol of the pleasures of life with all its colours, scents, and shapes. Lime and vanilla flowers.
Lime Blossom & Vanilla Candle
Description
290 g scented candles, with high quality flower extracts. The fragrance will transport you to a place where Mother Nature is in control, with intense colours and bewitching scents. Our candles deliver a long-lasting fragrance to your home. Burning time: 60 hours.
Type: Art Candle
Material: Paraffin wax; Soy wax available
Feature: Scented
Color: GOLDEN
Shape: Pillar
Handmade: Yes
Use: Holiday; Home Decoration; Gifts
Brand Name: MA LOULOUTE
Scent: Lime Blossom & Vanilla
Jar Material: Glass jar
Burning Time: 60 hours
Wax Weight: 290 g
Jar Size: 88*100 mm
Certifications: REACH, CLP.
Shelf Life: 2 years