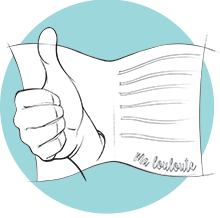 Protection of your personal data
All the information you have been able to provide to MA-LOULOUTE.COM during your visits to our site and our applications are strictly confidential. They are necessary for the purpose of their treatments such as the management of your orders, as well as the commercial relations we have with you.
What information is collected?
The data we collect may include your so-called personal data, so that they can identify you as a particular person. Conversely, some data do not allow us to identify you, such as your profession or navigation data (the type of browser, terminal and operating system, the path followed on the site and applications, ...). Some information is mandatory and other optional, as indicated in the collection form.
For what purposes are your data used?
Your data will be used by our internal services:
to process your order,
to combat fraud,
to strengthen and customize communication, including electronic letters/courriers of information,
as part of the customization of the site and our applications, according to your recognized preferences,
in order to better understand our members and their use of our site and our applications, which we will be able to modify according to your needs.
MA-LOULOUTE.COM informs you that it will be able to communicate your data to ensure the delivery of orders by its suppliers, suppliers, subcontractors and certain aspects of the after-sales service, and to conduct satisfaction surveys.
What information do we share with third parties?
We undertake not to disclose to third parties the information you provide to us. This information is exclusively used by our internal services and will in no case be sold or sold to third parties without your prior agreement. Thus, MA-LOULOUTE.COM will never transmit your personal data to a third party (excluding the companies of the group to which it belongs) who may use it for direct advertising purposes, except if you have expressly consented to it before.
Social networks
MA-LOULOUTE.COM is present on social networks, through Fan pages or apps on Facebook, Instagram.. In order to allow you to register or connect to our site or our applications, you have the option to authenticate it via the account of a social network. Simply click on the dedicated button such as "Facebook Connect", so that you automatically pre-fill your MA-LOULOUTE.COM registration form with the information you have already provided to the social network.
We are able to collect information when you browse our social media pages or use their authentication features. To learn more about the protection of your personal data while browsing these websites, we invite you to consult the privacy policies of each of them.
Moreover, because of the use of social media applications, some cookies may be issued by other entities than MA-LOULOUTE.COM. The issuance and use of cookies by third parties are subject to their own privacy policies. We inform you of the subject matter of the cookies we know and the means you have to make choices about them.
CNIL
In accordance with the "computers and freedoms" Act of 6 January 1978, you have the right to access and rectify the information that concerns you.
You can also, for legitimate reasons, object to the processing of data concerning you. For more information, see your rights on CNIL site.
Secure payment 3D-secure
Winning your trust is a major issue for MA LOULOUTE.
To manage the security of your online payments, we chose to integrate the latest market technologies, including 3D-SECURE, in partnership with our bank, the Banque Populaire de l'Ouest.
What is it?
3D-SECURE is a program created by Visa (Verified By Visa) and Mastercard (Mastercard Secure Code) international issuers to enhance the security of payments by credit card on the Internet.
Its objective is to reduce the risk of fraud (especially identity and impaid fraud related to the challenge of payment order) and to offer buyers on the Internet a reassuring and secure payment process. It is based on the establishment of additional control during an online purchase.
How does it work?
Upon payment of its order on a 3D-SECURE-integrated site, the customer takes the usual bank information (card number, validity date and visual cryptogram). If it is registered 3D-SECURE, it is returned to the authentication site of its bank. After validation of its authentication and agreement of its bank, the bank forwards a payment agreement to the merchant. The proof of the 3D-SECURE payment is then archived.
The 3D-SECURE solution uses powerful data encryption protocols that ensure the confidentiality of your financial data and are subject to the security certifications required by the international financial institutions Visa, MasterCard and American Express.
This solution is chosen by the largest sales sites on the Internet: Eurotunnel, Kookaï, Samsung, Celio, Bata, Hom, Aigle, Les Galeries Lafayette, Les 3 Suisses, Damart and many more.